Bathroom Remodeling
Have you noticed areas of your home are not meeting your needs? Is your bathroom outdated? Are you short on storage space? Is your home missing key features? Do you need to add a handicap shower or sink? We are here to help you with updating your home!
Custom design options will help you create your ideal bathroom with ample storage space, trendy flooring, quality sinks, and tubs. Towel racks, grab bars, and hardware will add the finishing touches that will give the "wow" factor.
Customization of your bathroom includes, but is not limited to: Sinks, Cabinets, Tile Showers, Flooring, Granite, Vanities, Glass Showers and More!
Stop by our showroom to view sample products and speak to one of our professional designers, or call 251-968-9777 today to schedule your free, on-site consultation.
Cabinetry
The cabinetry and vanities for your bathroom need to function well with the space and the vibe of your bathroom.
They are your main storage space for the essentials but also pack a big punch when it comes to aesthetics.
Organization is key to make your bathroom routine quick and seamless.
Operation will be a breeze with our top of the line features like soft close cabinets.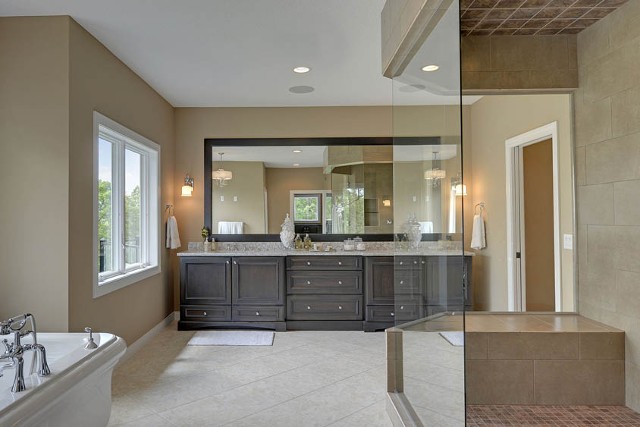 Fixtures
Sinks and Faucets
The washroom, as it is often called, is a necessary for a functioning household.
We believe you should be able to represent your style without compromising efficiency.
Top of the line features such as articulating or smart touch faucets allow for effortless control.
Tubs and Showers
Innovative designed showers and vanities with paramount elegance will meet your needs and offer stunning looks.
Are you planning for aging in your home by adding a wheelchair accessible shower?
Custom design options will help you create your ideal walk-in shower!
Maybe you are planning to expand your family and want to add a deep freestanding tub for bathtime.
Whatever your remodel needs Island Enclosures can make it a reality!
A glass shower enclosure really makes your space stand out!
Custom design options make the possibilities seem endless when designing the shower for your space.
Whatever your remodel needs Island Enclosures can make it a reality!
Granite & Countertops
Beautiful and versatile granite countertops take any indoor living space or home improvement project to the next level! This sanitary option withstands the wear and tear of daily use with legendary durability.
Customize your living space with the feel of elegant countertops that will not fade. We have a broad variety of colors, styles, and patterns that allow you to create your dream bathroom.